Determine the proper pool table room sizes for an optimal playing experience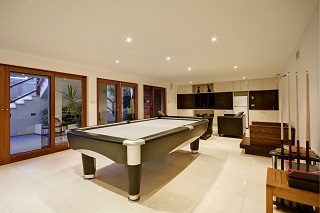 Please consider it when buying your pool table. If you have any questions or are ready to schedule your appointment, call the professionals here at San Jose Pool Table Movers SOLO®. Here are the approximate pool table room sizes below. What a lot of people don't take into consideration is the size of the room where they plan the pool table set up to be executed.
Many people don't consider this essential question when purchasing a billiard table for their home, will it fit in the room? We have specialty tools, and our years of experience have taught us the perfect techniques to ensure a perfect pool table setup with exact leveling when we complete your service.
When pricing for a pool table assembly service or repair that will be set, you want to make sure that when you call us, you know the size of the table because when the pool table installer arrives at the job and finds that an 8-foot table is a 9-foot table it could complicate the job and in most cases will change the price of a moving job.
When we recover a pool table with new felt,  the industry norm is to supply it with pre-cut billiard cloth. For this reason, we have to know the playing surface area of your table to make sure we order the right cut of material and ensure a proper pool table refelting service.
If an 8-foot table is expected to be serviced and we encounter a 9-foot table, then we may not even have the correct cloth size to finish your job, which could incur additional trip charges to get your pool table refelting services the right way.
Pool table size is vital for a successful job, and it's super handy to know when checking the pool table room size in your home. Keep in mind that the best time to inspect for issues that your table may have is when the pool table is in pieces. This helps prevent any significant pool table repairs in the future. These repairs can only be spotted by an experienced mechanic who can give you proper advice on the matter.
Knowing the pool table sizes can help you choose the perfect game room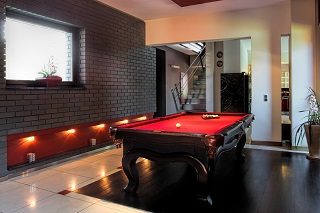 In our many years of experience, there have been quite a few pool table moves in which we have found out that the room where the pool table was going to be set up did not have adequate space to play the game.
Consequently, we had to reschedule the appointment. In other situations, the customer asked us to install the pool table in a different room than where they had initially planned. In most cases, this will change the price of the service.
We have the most experienced pool table installers taking care of your pool table service and needs.
Below is a list of the pool table room sizes to help determine if the pool table you are looking into works for you.
Pool table sizes are listed along with the proper pool table room sizes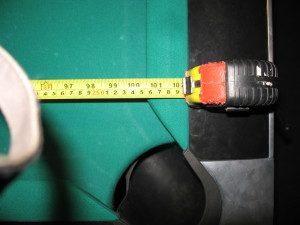 8′ x 4′ – 8-foot pool table needs roughly 18′ x 14′
7′ x 3 ½' – 7-foot pool table needs roughly 17′ x 13½'
9′ x 4 ½' – 9-foot pool table needs roughly 19′ X 14½'
Measure from the tip of the bumper to the tip of the bumper across the width of your pool table to find your table size.  You can find the pool table room size required by determining what size your pool table is.
This is especially important when calling for pricing, refelting or moving because this will change the pricing on both services.